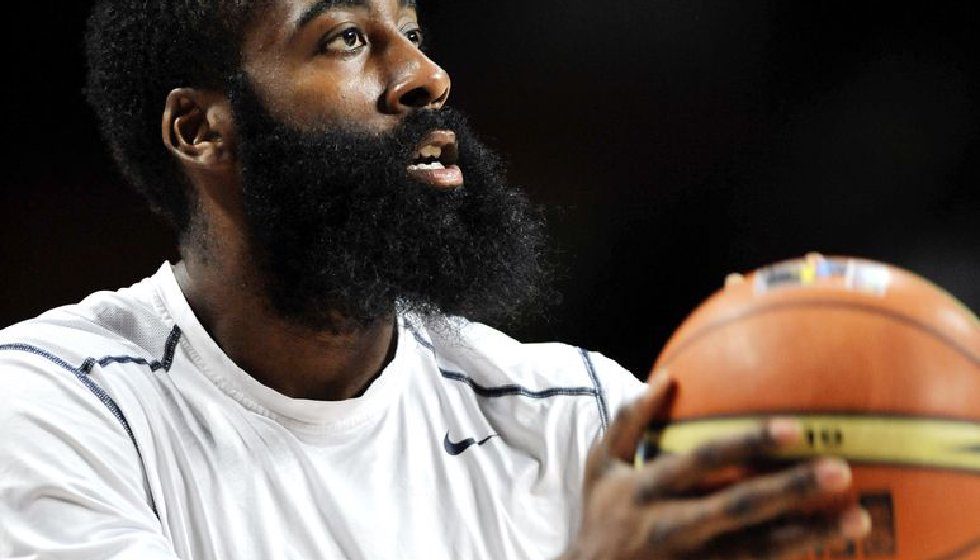 Nets trade James Harden to 76ers for Ben Simmons in blockbuster deal
The Brooklyn Nets and Philadelphia 76ers have completed a trade to send James Harden and Paul Millsap to Philadelphia in exchange for Ben Simmons, Seth Curry, Andre Drummond and two first-round picks. The Sixers will send an unprotected 2022 first-rounder and a protected 20217 first-rounder, per sources.
Prior to selecting players in the NBA's All-Star Game draft Thursday night, Brooklyn Nets star and All-Star captain Kevin Durant said he was "happy we got guys who want to be part of this" before making clear his feelings by passing on Harden with each of his seven reserve selections of the draft.
Much to the amusement of opposing All-Star captain, LeBron James.
As part of the deal James Harden is opting into his $43.7 million player option for next season.
The former MVP and three-time scoring champion is averaging 22.5 points, 10.2 assists and eight rebounds per game for the Brooklyn Nets this year. Harden has been battling hamstring injuries for much of 2021 and has currently missed the last three games for the Nets due to left hamstring tightness. His 22.5 points average per game are the lowest mark of his career since becoming a full-time starter for the Houston Rockets in 2012-13.
James Harden joined the Nets in January 2021 as part of a four-team blockbuster trade between the Houston Rockets, Cleveland Cavaliers, Indiana Pacers and Brooklyn. Harden spent nine seasons with the Rockets before requesting a trade, listing the Brooklyn Nets and the Philadelphia 76ers as his preferred destinations. This marks the second time within a year that Harden has engineered a move to his preferred destination.
The Sixers drafted Simmons with the top pick in 2016 winning Rookie of the Year for the 2017-18 campaign. Ben Simmons hasn't played for Philadelphia this season due to ongoing mental health issues and friction with MVP-favorite Joel Embiid after suffering a dramatic loss of form against the Atlanta Hawks during the 2021 playoffs.
Simmons has averaged 15.9 points, 8.1 rebounds and 7.7 assists in the four seasons he's played.
Seth Curry started 45 games for Philadelphia this season, averaging 15 points per game and shooting 40% from 3-point range. Andre Drummond over 18.4 minutes on the year has been averaging 6.1 points and 8.8 rebounds per game.
Paul Millsap was averaging 11.3 minutes per game in 24 appearances for the Nets in his 16th season in the league.
Does Harden-Embiid elevate the 76ers?
Joel Embiid has been spectacular so far this season, putting the 76ers on his back and developing his game as a versatile offensive performer who makes plays for others as he records his highest scoring season to date. On paper and if healthy, Harden compliments Embiid's game. 76ers general manager Daryl Morey knows this, having traded for Harden and worked with him for nine years in Houston. If The Beard can get his offense back there might not be a better one-two punch in the NBA. Harden could well be the most talented creator that Embiid has ever played with.
Trade Grade: A-
Can Simmons fit in Brooklyn?
This trade really feels like a win-win for both teams. However the Nets came away with more than was expected considering Seth Curry's current value as a shooter and restocking a couple of first-round draft picks. The caveat surrounding Simmons is he hasn't played all season and the last time we saw him, he suffered under the playoff pressure. He won't be asked to shoulder as much offensive pressure with the Nets, instead his defense and playmaking will be invaluable alongside two of the NBA's best scorers in Kevin Durant and Kyrie Irving. If Durant can return from his injury without complications and Irving can return to the court following the vaccine opt-out drama, there is potentially a great fit here. Simmons complements KD and Kyrie's game more than Harden was projected too.
Trade Grade: A-