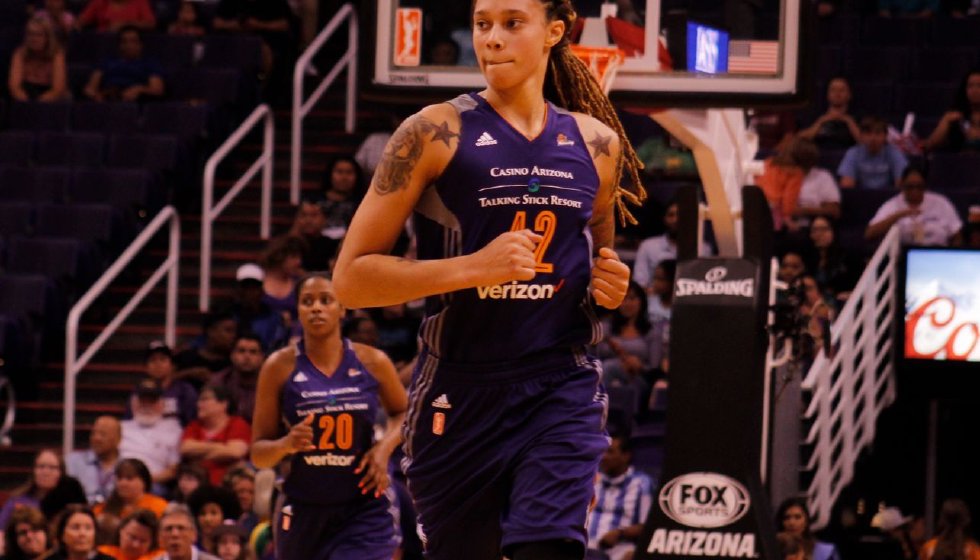 WNBA star Brittney Griner in good condition since being detained in Russia
Phoenix Mercury's Brittney Griner, 31, finished last season second in scoring, sixth in rebounds, first in blocks and was according to most advanced metrics the top offensive player in the WNBA. She is a seven-time all star and one of the most recognizable stars of the league.
She won an NCAA national championship for Baylor in 2012, as well as capturing college basketball's Player of the Year Award. Griner won a WNBA championship in 2014 and was also selected as one of the top 25 players of all time in 2021. She has also won two Olympic gold medals.
Her accomplishments are not reserved to titles and awards either. With a reputation for raising social consciousness Ms Griner is the first openly gay athlete endorsed by Nike, and contributed to defeating a Texas bill - she is a Texas native - that mandated transgender people use restrooms consistent with the gender of their birth certificate.
Brittney Griner's accomplishments serve as a reminder how precarious this situation has become, a high profile athlete caught up in a political hurricane as over a month ago she was detained in Russia and is being held on drug charges that could carry a sentence of 10 years in prison. Russian officials released a statement claiming that they had detained Griner after discovering hashish oil in her travel bag.
The airport screening occurred in February and Representative Colin Allred, Democrat of Texas, has confirmed he has been working with the State Department to get her back to the United States. "We're trying to make sure that anything we do is helpful in terms of her getting released," Mr. Allred told The New York Times. "It is an extremely sensitive situation."
Secretary of State, Antony J. Blinken, said the State Department would "provide every possible assistance" to any American national held by a foreign government. "Whenever an American is detained anywhere in the world, we of course stand ready to provide every possible assistance and that includes in Russia." Blinken has confirmed that certain details surrounding Ms Griner's detention could not be disclosed due to privacy constraints.
A Russian court confirmed that they have extended the detention of the WNBA star to May 19, the Russian news agency Tass reported on March 17. Griner is currently in pretrial detainment, under Russian law prosecutors have up to a year before they are required to bring her to trial.
Reports on March 24 have indicated that US consular officials were able to visit with Ms Griner in Russia for the first time, indicating that she is doing well. US State Department spokesperson Ned Price confirmed, "A US consular official was able to verify that she is doing as well as can be expected. We'll continue to work closely with her legal team and her broader network."
The WNBA has confirmed all of its players, except for Brittney Griner, were out of the country by the start of the war. It is still unclear whether Russia might have targeted Ms Griner as leverage against the United States as tensions between the two superpowers have reached their most dangerous moment since the 1962 Cuban missile crisis.
Supporters, friends and family are wary of raising Ms. Griner's profile too high or linking her case with the war in Ukraine thus turning her into a pawn in the ongoing power struggle.Yet as her detention drags out there is growing pressure from some supporters for a more vocal campaign to free one of the most decorated athletes in US sports.
Griner was in Russia with the intent to play basketball, a common off-season practice for WNBA players, as they can earn a salary in addition to the WNBA contract.She has played for the Russian team, UMMC Ekaterinburg, since 2014.