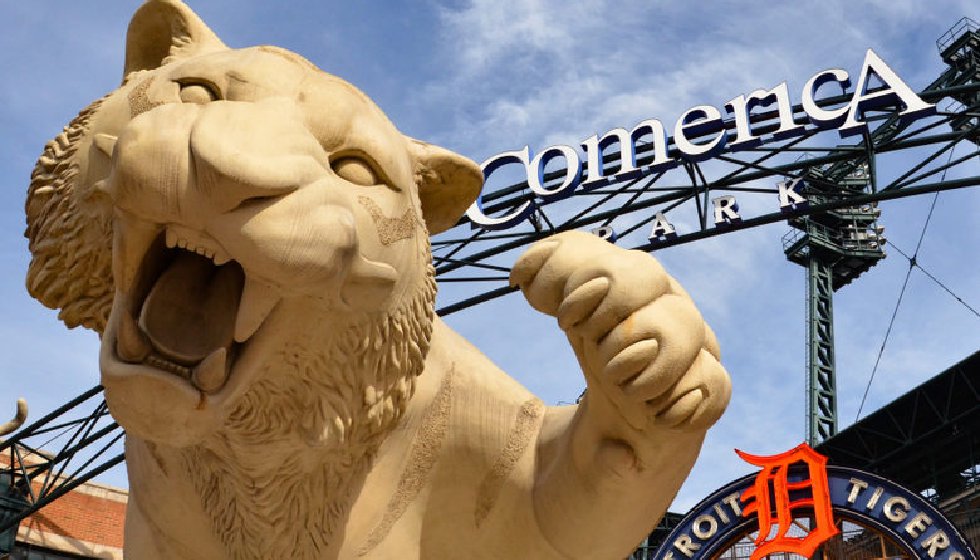 Detroit Tigers Earn Their Stripes with PointsBet Deal
The Detroit Tigers have become the first MLB team to agree a sports betting partnership agreement after tying up a deal with PointsBet. The multi-year deal will begin in time for the upcoming 2020 season and it includes stadium, broadcast and digital advertising. PointsBet can also use official league data and logos after signing on as an authorized gaming operator with MLB.
PointsBet is an Australian operator that launched in 2017. It made its US debut when it expanded into New Jersey in January 2019, and it continues to operate on the license of the Meadowlands Racetrack, along with FanDuel. PointsBet, which offers high-risk spread betting markets on proprietary software, is now expanding across the country and it has high hopes for the Michigan market.
"The PointsBet team is excited to announce our groundbreaking deal with the Detroit Tigers and Major League Baseball, becoming the first legal sports betting operator in U.S. history to partner with an MLB franchise," said Chris Granger, group president for sports and entertainment at parent company Ilitch Holdings. "Our incredible fans will love the unique experiences and innovative offerings that PointsBet's personalized platform provides. We look forward to the fan-friendly enhancements this will bring to the game-day experience in and around Comerica Park for years to come."
Full Speed Ahead for Michigan
Michigan Gov. Gretchen Whitmer signed a bill to legalize sports wagering in December 2019. The state's first retail sportsbooks opened their doors in March, but they were forced to close down after a couple of weeks due to the coronavirus lockdown. Tribal casinos have since started to reopen after the lockdown was eased and some sporting action returned, although no date has yet been set for Detroit's casinos to reopen.
This week the Michigan Gaming Control Board opened the application process for online sports betting and online casino gaming licenses. Commercial casinos and tribes are now able to apply for the new licenses. "The MGCB continues to make progress toward the launch of online gaming by adding forms for operators and vendors," said executive director Richard Kalm. "Operators should file applications soon so we can conduct investigations and work with them on internal controls, technical standards, lab certifications and other requirements. In addition, the operators and suppliers should encourage their vendors to complete and submit registration forms."
Kalm expects Michigan to launch online sports betting by late 2020 or early 2021. That would mean it is live in time for the Super Bowl, but it would miss the entire 2020 MLB season, which will run for just 60 games after players finally agreed on a deal with the league last month. Yet PointsBet sees long-term potential in Michigan, which is why it tied up a long-term deal.
Sporting Partnerships Ramp Up
Last month, the Denver Broncos became the first NFL team to link up with the gambling industry. The franchise announced landmark deals with FanDuel and Betfred. Sports leagues initially opposed sports betting, but they are now keen to simply secure a share of the revenue. MLB is now busy securing multi-year agreements with operators like PointsBet and TheScore, allowing them to use its logo and data to settle live, in-play wagers. TheScore, which is currently live in New Jersey and planning to expand into Colorado and Indiana in the coming months, was the fifth operator to sign an agreement, following DraftKings, FanDuel, BetMGM and Fox Bet.
MLB even has an executive vice president for gaming and new business ventures nowadays. That man, Kenny Gersh, said: "Working with TheScore is another important step in offering baseball fans a variety of unique gaming options to continually engage with our sport. TheScore is an innovative company that shares our vision for developing fandom with new, creative gaming opportunities on a variety of platforms."
Elsewhere, nationwide operator Penn National Gaming has secured a partnership with Sportradar to use official NFL data. That will help it offer a wide array of live betting markets when it launches its Barstool Sportsbook app in Q3 2020. "Delivering official NFL data to our growing, loyal audience, including over 66 million Barstool fans and our 20 million casino customers, will provide tremendous wagering opportunities where we operate sportsbooks across the country," said senior vice president Jon Kaplowitz.
DraftKings Pens Market Access Deal in Illinois
The first online sportsbook went live in Illinois when local operator Rush Street Interactive launched its BetRivers platform at the end of June. It followed Gov. J.B. Pritzker's decision to expedite the availability of online sports wagering during the coronavirus crisis. It also marked the start of the 18-month penalty box period, which sees leading operators DraftKings and FanDuel temporarily launching in the state. Illinois calls it punishment for launching daily fantasy sports when the practice was technically illegal, while they call it a cynical ploy to protect local operators from the competition.
DraftKings has now gained market access to Illinois after tying up a long-term deal with Casino Queen in East St. Louis, Illinois. The deal was revealed in an SEC filing. Casino Queen is one of seven casinos to secure a four-year master license, which permits operators to host online wagering providers on their licenses, in Illinois. Legal Sports Report says the deal could allow DraftKings to circumnavigate the penalty box ban and that it could herald an imminent launch for DraftKings in the state. DraftKings is flush with cash after a recent three-way merger with SBTech and a special purpose acquisition company, which led to significant investment in the enlarged group.
LSR also reported on the progression of sports betting bills in three different states. Partisan politics ended any chances of legalizing Georgia sports betting this year, according to bill sponsor Rep. Ron Stephens. "I gave it a Hail Mary, but it didn't get across the line," Stephens said. In Oklahoma, a court case that could overturn sports betting kicked off this week, but both sides are digging their heels in. Finally, in California tribes have been granted an extension to gather signatures for a sports betting initiative to be placed on the 2022 election ballot.