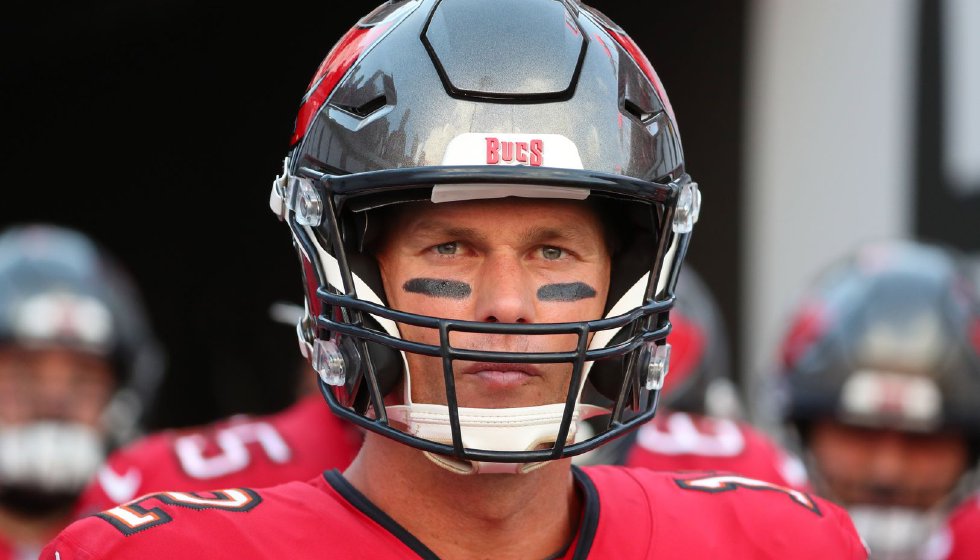 7-Time Super Bowl Champion Tom Brady, Retires After 22 Seasons
After 22 seasons reigning supreme over the NFL, the G.O.A.T. has finally retired. Tom Brady, inarguably the most accomplished player the league has ever known - seven Super Bowl rings, five Super Bowl MVPs, three NFL MVPs - announced his retirement on Tuesday.
College History
Tom Brady didn't play much during his first two years of college after enrolling at Michigan in 1996. In his first two seasons, Brady completed 15 of 20 passes for 129 yards and an interception serving as backup quarterback to Brian Griese. Over the course of the next two seasons, splitting time with highly touted prospect Drew Henson, Brady helped the Wolverines go 20-5 throwing 30 touchdowns and 16 interceptions combined in 1998 and 1999. He closed his chapter at Ann Arbor with a bang, throwing for 369 yards and leading Michigan to a 35-34 Orange Bowl victory over Alabama.
The Rookie
Brady was hardly a can't miss prospect heading into the 2000 NFL draft, indeed the New England Patriots drafted him in the sixth round, 199th overall. Brady famously, wasn't lacking in confidence.
"When he introduced himself to me and said, 'Hi, Mr. Kraft,' he was about to say who he was, but I said, 'I know who you are. You're Tom Brady. You're our sixth-round draft choice,' Robert Kraft, owner of the Patriots, said about their first introduction. "And he looked me in the eye and said, "I'm the best decision this organization has ever made."

Similar to his early college days, Brady played sparingly in his first season with New England. But when Patriots starting QB Drew Bledsoe - fresh off signing a 10-year, $103 million contract - was injured in Week 2, Tom Brady got his chance. Bledsoe eventually recovered but Patriots head coach Bill Belichick stuck with No.12 - a decision that would shape the contours of the NFL for two decades - who led New England to an 11-5 record and a playoff berth.
Early Dynasty
In 2001 New England advanced to the Super Bowl against Kurt Warner and the high-powered St. Louis Rams, known infamously as the "Greatest Show on Turf." The Rams may have been +14 point favorites but Brady and the tough New England defense held strong. Brady completed 16-27 passes for 145 yards and a touchdown, leading the Patriots on a 53-yard drive to set up Adam Vinatieri's 48-yard field goal to win the game, 20-17. A familiar story that will be played out down the years. Super Bowl victory No. 1.
Two years later, Brady had the Patriots back in the Super Bowl following a 14-2 regular season. Against the Carolina Panthers Brady led another game winning drive, sealed with another field goal from Vinatieri. Tom Brady was named Super Bowl MVP after throwing for 354 passing yards and three touchdowns in a 32-29 win.
Another 14-2 season ended once again with a trip to the Super Bowl in 2005, this time against the Philadelphia Eagles. Brady threw for two touchdowns in a 24-21 win, making history as he joined Troy Aikman as the only quarterbacks to win three Super Bowls over a four-year span. A dynasty had been born.
Dynasty to (Almost) Perfection
Brady's best individual season was in 2007 when he won his first league MVP and threw for an NFL-record 50 touchdown passes as the Patriots perfectly ran through the regular season 16-0 and advanced to Super Bowl XLII. The perfect season however was undone by the Giants and the famed "helmet catch" that propelled Eli Manning and the NY Giants to an upset victory, 17-14. The play of the decade would set the tone for Brady's next ten years. One of immense potential but little success.
"I still think that (2007 season) was the best team I ever played on, even though we didn't win the Super Bowl," Brady said in his ESPN documentary 'Man in the Arena.' "Wasn't the most accomplished team, but it was probably the best team… It was probably the best team in NFL history."
Sporting Wilderness
The best team in football was rocked during an almost-perfect season with the first of two scandals that would asterix discussions about their greatness known as "Spygate." New England's sign stealing was discovered during a 2007 regular season game against the NY Jets. The often-misunderstood scandal colored the Patriots dynasty - rightly or wrongly - that came before, the line between what is fair competition and what is cheating can sometimes become unclear in professional sports - see the sign stealing scandal that engulfed the Houston Astros in baseball, for example.
After the disappointment of losing to the Giants at Super Bowl XLII, Brady tore his ACL in the opener of the 2008 season, ending his season after 11 pass attempts. New England still managed to finish 11-5 without Brady, however the team missed the playoffs for the first time since the 2002 season.
Following two Super Bowl losses to the Giants and almost a decade of early playoff exits, Brady and the Patriots finally returned to the mountaintop in one of the most dramatic finishes in Super Bowl history against the Seattle Seahawks in Super Bowl XLIX. Cornerback Malcolm Butler's interception at the New England 1-yard line sealed a 28-24 victory with Brady collecting MVP honors after setting a Super Bowl record for most completions (37). A record he would go on to eclipse two years later.
What was meant to be a celebration after years spent falling just short, Brady fell under increased scrutiny before Super Bowl XLIX for his involvement in what would eventually become known as "Deflategate." Allegations of improperly manipulating the air pressure in footballs that stemmed from the Patriots 45-7 win over the Indianapolis Colts in the AFC championship game in January 2015. He would eventually be suspended for four games the following season.
No Way Home
Deflategate bookmarked a second five-year period of intense dominance that was marked with three Super Bowl victories mirroring the success of those early 2000s New England teams.
Brady's most significant Super Bowl comeback of all time? In Super Bowl LI with Atlanta up 28-3 midway through the third quarter and Falcons owner Arthur Blank dancing on the sideline, Brady - and the Patriots defense - forged an impressive comeback, the Patriots eventually winning in overtime, 34-28. Tom Brady set Super Bowl records in 2016 for passing yards (466), attempts (62) and completions (43).
Tom Brady has been on both sides of some of the NFL's most amazing moments and the win over the Falcons was met with heartbreak a year later in Super Bowl LII, when Nick Foles and the Philadelphia Eagles upset Brady in a shootout despite breaking another Super Bowl record for passing yards (505) in addition to throwing three touchdowns.
TB12's 2018 season marked his last championship with New England, which he earned with a 13-3 victory over the Los Angeles Rams in Super Bowl LIII, his sixth ring. He had won his first ring in 2001 against the (then-known) St. Louis Rams at the age of 24, his final victory against the Rams in 2018 made Brady the oldest quarterback to win a Super Bowl at 41.
In the 18 seasons when Brady was New England's starter and was healthy (exc. 2008), the Patriots missed the playoffs just once, in 2002. Of those 17 playoff appearances Brady's Pats advanced to at least the conference championship game 13 times, including an incredible eight straight seasons from 2011 through 2018. He led New England to nine Super Bowls, winning six and earning MVP honors in four.
All that success made Tom Brady a household name beyond football. He had established a level of sustained greatness very few athletes can achieve.
Far From Home
After two decades in New England, in 2020 Tom Brady entered free agency for the first time and signed (surprisingly) with the Tampa Bay Buccaneers, a franchise that hadn't reached the playoffs since 2007. At the time the Bucs had won as many playoffs games (six) as Brady had championships! Yet he mastered a new offense, adjusted to a new city and new teammates, all while the pandemic restricted in-person training and contact.
By the end of his first year in Tampa the culture and roster had dramatically changed and the Bucs were celebrating a Super Bowl victory with Brady earning his fifth - obviously, another NFL record - Super Bowl MVP, and seventh title, throwing three touchdown passes in a demolition of the Kansas City Chiefs in the Buccaneers' home stadium.
The narrative of his career is woven with a desire to compete and in retrospect each of Brady's rings proved something. That he deserved to start over Bledsoe. That his first title was not by chance. That he could lead a dynasty. That he didn't need deflated balls to win.That you can never count him out. That the Patriots had made the right decision to keep him and trade backup Jimmy Garoppolo to the San Francisco 49ers. And finally last year, he didn't need Belichick to win.
Homecoming
Tom Brady returned to New England for a Week 4 matchup this season and broke another hallowed NFL record - most career passing yards - while leading the Bucs to a 19-17 victory. It may not have been his best game but as it goes with Tom Brady, another point proved. The victory meant that he became just the fourth player in NFL history to beat all 32 NFL teams, joining Brett Favre, Peyton Manning and Drew Brees. In the context of his announcement this week, it will mean more than that.
Brady, in announcing his retirement after yet another incredible season statistically speaking, means there will be no farewell tour. He will always have that Foxboro farewell. That night had it all: a battle between Belichick & Brady and the type of emotional send-off that should make it easy for Brady to return to Foxboro in his retirement.
While there might not be any more superhuman Brady moments on a football field, it sure was fun while it lasted.
What next for TB12?
For an athlete of his stature, his off-field business was light during his two decades establishing his dominance over the NFL.
"I have always believed the sport of football is an 'all-in' proposition - if a 100% competitive commitment isn't there, you won't succeed, and success is what I love so much about our game,'' Brady said in his statement on Instagram. "There is a physical, mental and emotional challenge EVERY single day that has allowed me to maximize my highest potential. And I have tried my very best these past 22 years. There are no shortcuts to success on the field or in life."
As he achieved stardom going all-in, a new generation of brand and business-savvy athletes have emerged across all major sports. What effect this has had on Tom Brady is unclear. However something has definitely shifted: he co-founded a non-fungible token (NFT) platform, Autograph and he jumped into cryptocurrency with a significant investment in FTX, a San Francisco-based cryptocurrency exchange. He has also announced his own eponymous apparel line, called Brady, and has started to increase his advertising portfolio from rental cars to sandwiches.
His late-career marketing renaissance indicates a man getting ready for his next 'all-in proposition.' If his post-football career mimics anything like Brady's last twenty years, anything is possible. When dealing with the G.O.A.T, I wouldn't rule anything out.