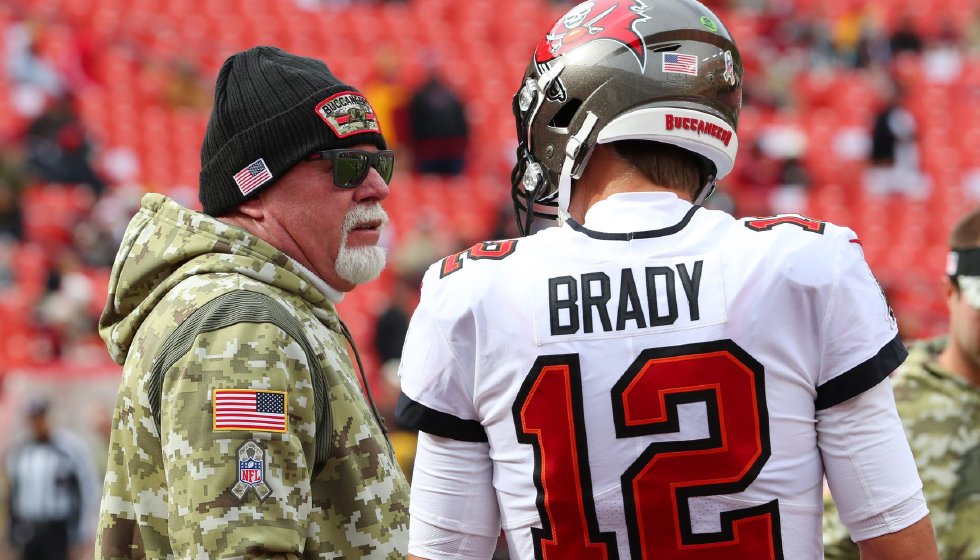 Bruce Arians retires, defensive coordiantor Todd Bowles becomes Buccaneers head coach
Bruce Arians, who led the Tampa Bay Buccaneers to Super Bowl victory in 2021, is retiring from coaching with immediate effect and is being replaced by defensive coordinator Todd Bowles.
This will be Bowles' second stint as a head coach in the NFL. He holds a 24-40 record with the New York Jets and will now be charged with leading the Bucs back to the Super Bowl.
He has spent the last three seasons in charge of Tampa Bay's defense helping the unit finish top three in rushing yards allowed each year. He has long considered Arians' successor had he not been hired elsewhere. He was interviewed for head-coaching positions with the Minnesota Vikings and Chicago Bears this offseason but was passed up for both.
Todd Bowles becomes the sixth minority head coach in the NFL and third hired this year, joining Lovie Smith with the Houston Texans and Mike McDaniel with the Miami Dolphins.
Bruce Arians will now take the position as 'Senior Consultant for Football,' although it's not entirely clear what the role will entail. On Thursday during the Bucs press conference Arians claimed it was always his dream to hand a head-coaching job to a member of his staff and that reports of friction between himself and star quarterback Tom Brady was "bul****" and "couldn't be further from the truth."
"A number of people have already asked, 'Why are you stepping away from a chance to go to the Hall of Fame and win another Super Bowl?' Because I don't give a s*** about the Hall of Fame," Arians said during Thursday's news conference. "Succession is way important to me. This has been my dream for a long time. Guys that know me, they knew I wanted one of my guys to take over."
Once Brady confirmed he was returning to Tampa Bay after his month-long retirement, the decision for Arians was easy and there was "no better time to pass the torch than now." Brady's return gave him the peace of mind he heeded to pass along the coveted job to his longtime friend and colleague.
Brady thanked Arians for his contributions the past two seasons in a post to his Instagram account.
"You are an incredible man and coach, and it was a privilege to play for you," Brady wrote. "You are a true NFL legend and pioneer for all the work you have done to make the league more diverse and inclusive. Smart, tough, and loyal are a few of the words to describe your style. I will always remember the conversations we had when you recruited me two years ago and all the things we discussed came true. We all benefited from your leadership and guidance and I'm so proud of everything we accomplished. You were a huge part of the decision to join the Bucs and I'm forever grateful."
Arians, 69, went 31-18 in three seasons with Tampa Bay and led the team to victory in Super Bowl LV. Citing a desire to spend more time with family and friends, Arians is retiring with a record of 89-51-1 in nine seasons as a head coach.