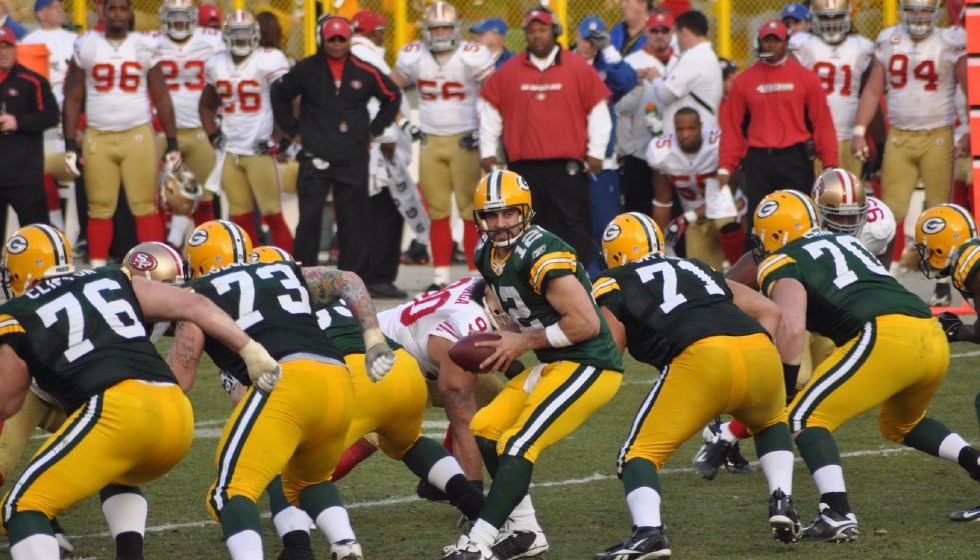 San Francisco 49ers vs Green Bay Packers: Divisional Round Preview
NFC Divisional Round Schedule
San Francisco 49ers (6) @ Green Bay Packers (1)
8:15pm ET, Saturday Jan 22, Fox
Opening spread: Packers -5.5
Opening moneyline: 49ers +200, Packers -240
Observations: The first upset of the NFL playoffs belong to the 49ers, going on the road and controlling most of the game against the inconsistent Cowboys for a 23-17 win. The 49ers used their running game to great success on Sunday night, getting 96 yards from Elijah Mitchell on 27 carries, and 72 cards from Deebo Samuel on 10 carries. Finding a way to take the pressure off Jimmy Garoppolo's arm (and shoulder) by targeting the Packers middling rush defense - the Packers average of 4.6 yards allowed per carry ranked 22 in the NFL - will be crucial if the 49ers are to pull off an upset.
Ahead of their first playoff game the Packers roster is getting healthy. They are expected to get left tackle David Bakhtiari, cornerback Jaire Alexander, and (possibly) pass-rusher Za'Darius Smith back for Saturday night. On the other side, 49ers linebacker Fred Warner and defensive ends Nick Bosa & Jordan Willis are all doubts for this Saturday's matchup. Health is favoring the Packers, will they be able to shake off any matchday rust in time?
The last time these two teams met in Week 3 of the regular season the 49ers almost beat the Packers with Deebo and Mitchell combining for two carries and zero yards. Which is crazy considering their progress since! Deebo Samuels has become one of the premier WR/RB combo guards in the NFL and Mitchell who has gained an average of 100 yards in the last three games has had a fine rookie year, breaking the 49ers single season rushing record. The 49ers were a tough matchup for the Packers in Week 3 during the regular season, and the 49ers are a much better team now.
The Packers have been one of the most complete teams in the NFL, and with MVP favorite quarterback Aaron Rodgers angling for a second Super Bowl, they have as good a shot as ever. Green Bay are 8-0 at home, and went 5-1 against teams that made the playoffs this year including the week 3 victory over the 49ers. Rodgers was inactive for that one loss.
Key matchup: With the Packers defense trending healthy, 2022 all-pro linebacker De'Vondre Campbell will have a critical role in stopping the 49ers offense that ranks No. 9 in the NFL with 1224 passing yards on throws 10 yards or fewer past the line of scrimmage. How much time and space the explosive and hard-to-stop Deebo Samuels is allowed will be a fascinating storyline as the game develops.