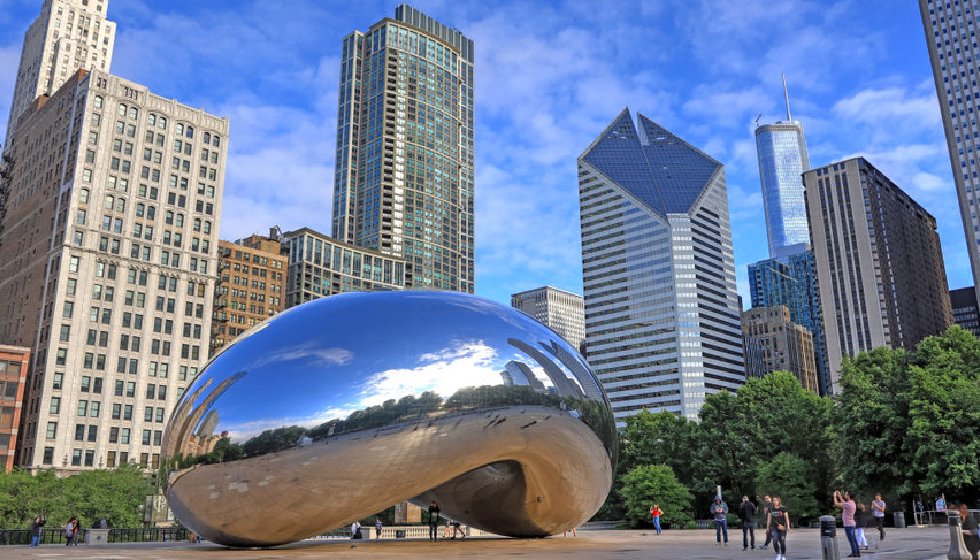 US Sports Betting Update: Illinois Becomes the Country's Second Largest Market for Sports Wagering
Illinois became the second-largest sports betting market in the United States by taking a handle of $537.2 million in April. That left it ahead of Pennsylvania and Nevada, which handled $479.4 million and $454.7 million respectively during the month of April. Only New Jersey, with a handle of $748 million, surpassed Illinois. 
Betting at the state's online and retail sportsbooks actually decreased by 15.2% from a record $633.6 million in March. However, that was to be expected, as all the other states saw declines resulting from a March Madness hangover in April. The total revenue was $43.6 million, down just 1.6% compared to March, and that yielded $6.5 million in state taxes and $527,100 in local taxes. Illinois sportsbooks have now handled $4.1 billion since sports wagering began last year.
FanDuel surpassed rival DraftKings to become the number one sportsbook in Illinois during April. It took $176.9 million in online sports wagers, equivalent to 34.5% of the total online handle of $513.2 million. DraftKings saw its share fall to 32.2%, while BetRivers was third, with 14.1% of the online market. Barstool Sportsbook was fourth during its first full month of operations in the state. The state now requires in-person registration once more, so it will be difficult for newer arrivals to catch the market leaders in the months ahead.
DraftKings Stock Maintains Rally
Losing top spot to FanDuel could be seen as a blow for DraftKings. It mirrors the situation in New Jersey, where DraftKings was first to launch, became the market leader and then watched on as FanDuel outstripped it to take top spot. FanDuel is now the market leader in New Jersey, Illinois, Pennsylvania, Virginia and a few other states.
Yet DraftKings stock has still rallied by more than 25% over the past month. It closed Thursday at $53.65, which is still some way off a peak of $71.98 in March, but its performance has been strong since falling to $40.99 on May 13. DraftKings made its debut on the NASDAQ last year following a three-way merger with white-label provider SBTech and special purpose acquisition company (SPAC) Diamond Eagle. The SPAC deal left it flush with cash and it has invested heavily in promotional credits, cementing its status as the second most popular online sportsbook in the country. 
DraftKings stock (DKNG) increased by around 300% last year. The company said it outperformed 497 of the companies in the S&P 500. It
paid out $743 million
in compensation to five top executives in 2020. Chief executive and co-founder Jason Robins took home $239 million, while president Matt Kalish and chief technological officer Paul Liberman – both co-founders along with Robins – each took home $197 million. Chief legal officer R. Stanton Dodge and chief financial officer Jason Park were given $56 million apiece. Executives sold around $176 million worth of DKNG stock on the open market. 
At the same time, DraftKings posted a net loss of $844 million in 2020. The compensation dished out to executives vastly exceeded payments made within its S&P 500 peer group. In a note to investors, Morgan Stanley, warned that this level of exec pay could hamper DraftKings' performance.
Analyst Thomas Allen
noted
that the company plans to pay a further $1.1 billion over the next two years.
A Compelling Long-Term Growth Story
Morgan Stanley lowered its price target from $63 to $58 for DraftKings. However, it has maintained an "overweight" rating on the stock, calling it "a compelling long-term growth story aided by a unique customer acquisition advantage". The company has certainly invested heavily in customer acquisition over the past few years. Just a fraction of the addressable market is unlocked, with major states including New York and Florida poised to roll out online sports wagering in the not too distant future.
DraftKings laid out a scheme called the long-term incentive plan after last year's merger. The executives' compensation was linked to targets for revenue, EBITDA and stock price. DKNG stock vastly exceeded expectations, resulting in large compensation, which was mainly paid in stock. The company has now revised its long-term incentive plan for 2021, removing the share price-related targets.
Morgan Stanley warned the stock "could risk underperformance" due to executive pay, but Robins, Kalish and Lieberman have now all reduced their base salaries, while the company has taken a range of other measures to avoid a repeat of the situation. Targets are now based on revenues, rather than stock performance, while execs cannot sell more than 50% of stock received without losing eligibility for the scheme.
Mark R. Hake, analyst at
InvestorPlace
, has set a price target of $74 per share for DraftKings, which would represent an increase of around a third. "I estimate DraftKings will have at least $2 billion in cash by 2025 from profitability and further warrant issues," he wrote. "That gives it an equity market value of $28.85 billion, or 34.2% ahead of today's price. I think the valuation for DKNG stock is always going to be at least four to five years in the future. This is because the market assumes that the sports betting market will continue to grow dramatically."
Sportsbook Set to "Supercharge" International Growth
Another operator to receive a boost on the financial markets was London-based Smarkets. It has launched its low-margin sportsbook, SBK, in Colorado, and it plans to expand into Indiana and other states in future. SBK owns proprietary sportsbook technology and offers reduced juice lines on spreads and totals. Its odds are easily the most attractive of any legal sportsbook in the U.S.
Financial trading giant Susquehanna has now
invested in the company
during a Series B funding round. "This is an incredibly exciting day," said Jason Trost, founder and chief executive of Smarkets. "I've always been amazed what the passion and energy of a comparatively small group of committed people can accomplish against much bigger rivals. Smarkets and SBK are the product of exactly that.
"At Smarkets we have always been guided by our vision of fixing betting with the best prices and products, and SGE is just as excited as us to challenge the status quo. This is a huge endorsement of our technology and will allow us to further upend the industry by offering bets as close to fair value as possible.
"We are super proud of what we have achieved so far in the UK betting space, and this new investment will help take us to the next level and beyond in the UK, US, and other international markets. I truly believe the best is yet to come. This investment will allow us to fight with greater resources, move faster, and be bolder in our mission. We're so excited about the opportunities this investment unlocks."