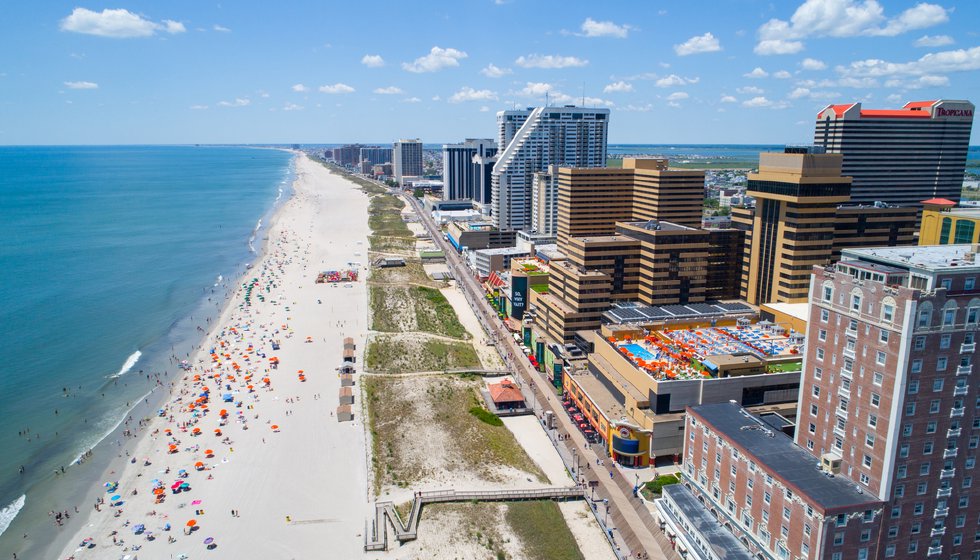 US Sports Betting Update: New Jersey and Pennsylvania Enjoy Record Trading in September
New Jersey sportsbooks raked in a record-breaking $445 million handle during September as the advent of a new NFL season gave their industry a significant boost. It was their busiest month since sports wagering was legalized in June 2018, and it suggests that Garden State operators will enjoy a strong winter trading period. The handle represented a 141.8% year-on-year increase on the $184 million that New Jersey sportsbooks reported in September 2018. It also equated to a 49.7% increased on the $297.3 million they took during the previous month, while revenue shot up to $38 million.
The figures are undoubtedly impressive for an embryonic industry. However, it opens the door for Nevada to regain its status as the number one sports betting jurisdiction in the United States. The two states have engaged in an intriguing seesaw battle for supremacy this year.
New Jersey surpassed Nevada's sports wagering handle for the first time in May 2019. The Silver State battled back and regained the lead in June. New Jersey then reported revenue of $251 million for July, while Nevada could only manage $235 million, leaving the Garden State as top dog once again. It held onto its lead in August, as Nevada's handle of $287.8 million fell just short of the $297.3 million that New Jersey brought in.
Yet last September saw Nevada sportsbooks pull in a handle of $571 million and if they match that performance in 2019 they will blow New Jersey out of the water. The Nevada Gaming Control Board typically releases its monthly revenue figures a couple of months later than its New Jersey counterpart, so it will be interesting to see how it fared during September 2019.
FanDuel Still Reigns Supreme
FanDuel at the Meadowlands cemented its status as the market leader in New Jersey during September. It brought in $16.9 million in revenue during the month, which left it comfortably ahead of the $10.7 million secured by DraftKings. William Hill was in third.
That follows a trend that has played out over the course of 2019, with FanDuel Sportsbook reporting almost $96 million in year-to-date revenue via Meadowlands Racetrack, with $50.5 million for DraftKings Sportsbook through Resorts AC and $18 million for William Hill at Monmouth Park. Other operators have a licence at those venues, but FanDuel, DraftKings and William Hill account for the lion's share.
Keystone State Continues to Soar
Neighbouring Pennsylvania also reported a record-breaking handle in September. Its sportsbooks took $194.5 million in wagers. It was later to the party than New Jersey and it only introduced online sports wagering this summer, but it is enjoying exponential month-on-month growth since digital sportsbooks were launched.
Pennsylvania has a larger population and GDP than New Jersey, and it also has seven major sports teams across Philadelphia and Pittsburgh, so it could soon emerge as the leading sports betting market in the US. "Pennsylvania has the opportunity to be the No. 1 jurisdiction in handle today," said New Jersey Division of Gaming Enforcement David Rebuck. "I say that because they've got 12 million people and two big cities. They have no restrictions on NCAA events. They also border on states that don't have sports betting."
Christie Slams Pennsylvania
Yet others were less complimentary. Former New Jersey governor Chris Christie referred to the Pennsylvania industry as a "rolling dumpster fire" during a talk at the Global Gaming Expo in Las Vegas this week. Chris Christie, who was inducted into the Sports Betting Hall of Fame this year for his campaign to see PASPA struck down, was giving the keynote speech. "Let's take a state that has really screwed it up –Pennsylvania," he said. They did all the wrong things – a ridiculously high tax rate, a ridiculously high barrier of entry."
Pennsylvania charges a 36% tax on revenue and a one-off licence fee of $10 million for sports betting operators, which could prevent smaller sportsbooks from entering the market and driving competition. By contrast, New Jersey charges just 9.75% in revenue tax on retail sportsbooks and 13% for online operators. "Every Saturday and Sunday this fall, people are driving from Pennsylvania into New Jersey and sitting at our rest stops on their mobile phones and making bets, then heading back home," Christie claimed
Indiana and Iowa Build Momentum
Elsewhere, The Indiana Gaming Commission reported that the opening month of sports betting at its casinos attracted $34.5 million in wagers. Football was the most popular sport, with $20.7 million in bets, followed by parlays and baseball. The basketball and hockey seasons are not yet underway, but handle should shoot up again when they commence.
It is also worth noting that many Indiana sportsbooks only launched halfway through the month, another reason to believe the handle will increase in the near future. Indiana's share of the sports betting proceeds in September was $813,000.
The total handle in Iowa increased from the $8.6 million in August to the $38.5 million in September – the first full month of trading since legal sports betting began – according to figures released by the Iowa Racing and Gaming Commission. Operators generated $5 million in revenue, of which $3 million was retail and $2 million was online.
However, there are now more digital sportsbooks launching and it is expected to emerge as the dominant wagering method for Iowa sports fans. Iowa takes a 7% set on operators' revenue, so the state took $334,553 for September. The Oregon Lottery has now released its eagerly anticipated online sports betting platform too. Scoreboard is a mobile app and desktop site that allows Oregonians to wager on a number of different sports while on the go or from the comfort of their own homes. "Scoreboard acts just exactly like a sports book that you would find in Las Vegas," said Chuck Baumann, senior public affairs officer for Oregon Lottery.