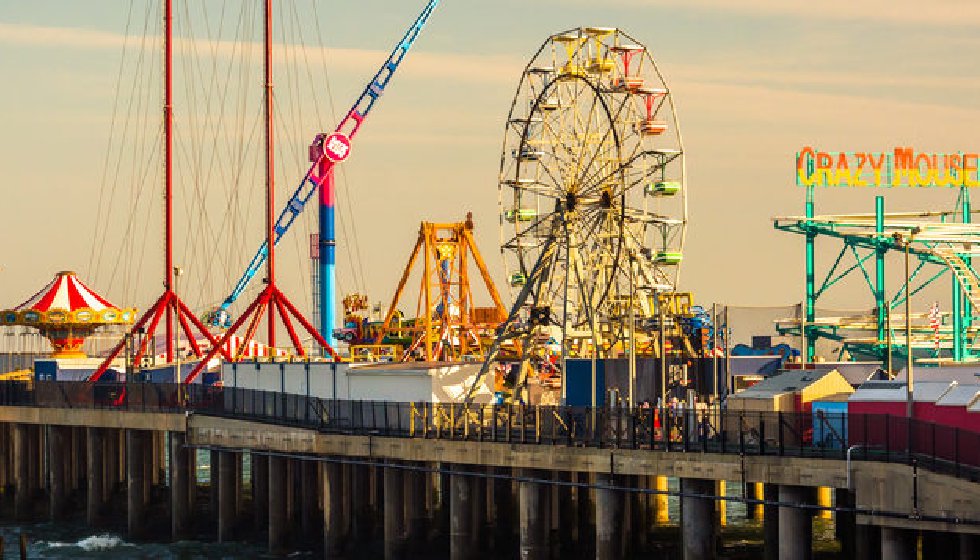 New Jersey Breaks the Half a Billion Dollar Barrier
New Jersey's sports betting handle surged past the $500 million barrier for the first time in November. The previous record in the Garden State came in the previous month, when bettors wagered $488 million on their favorite sports. That jumped up to an impressive $562 million in November, and operators should head into the festive period in buoyant spirits thanks to the continued growth of the sector.
However, the state's sports fans may be growing savvier with
their betting. Operators held a record $46.4 million in October and that actually dipped 29% to $32.9 million in November, despite the handle soaring. Yet there is plenty of cause for optimism among New Jersey sportsbooks. The state is unlikely to dethrone Nevada as the sports betting capital of America with those stats, but it is edging closer to seizing the crown.
The FanDuel sportsbook at the Meadowlands continues to enjoy a market-leading position in the nascent industry in New Jersey. It accounted for $12.2 million of the $32.9 million revenue for the month of November. PointsBet, an intriguing site that offers fixed odds and spread betting, also operates on the Meadowlands license, but the vast majority of the revenue is attributed to FanDuel.
Next up was the Resorts' license, which hosts DraftKings, FoxBet and Resorts' own offering, was next with $9.1 million. Most of that goes to DraftKings, the number two sportsbook in the Garden State. The remaining operators were left to share the remaining $11.6 million in revenue between them.
Parlays Drive Revenue Growth
The stats from the New Jersey Division of Gaming Enforcement show that bettors have now wagered $718.3 million on football this year. Sportsbooks have held 5.6% of that to give them $40.1 million in revenue. Basketball wagers stand at $806.8 million, but bettors have been more successful when it comes to hoops, leaving the books with a revenue of just $37.3 million. Baseball wagers have now reached $698.4 million, and the books have an even lower win of 3.9% on that, leaving them with $27.4 million in revenue for the first 11 months of 2019.
Parlays are a much more lucrative enterprise for the sportsbooks. They have a winning record of 12.5% on $753.1 million in wagers, leaving them with a revenue of $94.4 million. It is also interesting to note that New Jersey bettors have wagered more than $1 billion on other sports in 2019. This includes soccer, hockey, tennis, golf, boxing and MMA. The books have held 5.2% of that figure, resulting in $52.2 million revenue.
Indiana Surges Ahead
Indiana has also revealed its sports betting figures for November, and they make impressive reading. Sports betting handle shot up by 60.6% to reach $147.3 million during the month and that can be largely attributed to the rollout of online wagering. That accounted for 65% of the handle and it should increase its share going forwards, as online makes up more than 80% of the bets in more mature markets like New Jersey and Pennsylvania.
DraftKings turned the tables on its great rival in Indiana. It led the way with $64.1 million in online sports bets, ahead of FanDuel, which had $23.7 million. However, FanDuel is newer to the Hoosier State and it could soon close the gap on DraftKings. RSG-owned BetRivers was the only other online sportsbook in operation during November and it took a handle of $8.4 million, leaving it a distant third.
Brick and mortar sportsbooks in Indiana have benefited from their proximity to Chicago, Illinois, which lies just 20 miles north of the Caesars-owned Horseshoe Hammond Casino. That was the best performing retail sportsbook in Indiana during November after it welcomed busloads of Chicagoans that wanted to bet on football and basketball in a safe, legal setting. It took $13 million in sports wagers during November. At the other end of Indiana, the sportsbook at Hollywood Lawrenceburg Casino benefited from its proximity to Cincinnati, Ohio, as it took a handle of $8.8 million. Illinois and Ohio are yet to launch legal sports betting, and Indiana operators should continue to reap the benefits in the meantime.
Rhode Island Fails to Gain Traction
Rhode Island has one of the most established retail sports betting industries in the US, but it only recently began accepting online sports wagers. It is still facing teething problems, and commentators believe its insistence on in-person registration is hampering its performance. Sports betting handle increased 27.5% to $28.3 million in October, according to new figures from the Rhode Island Lottery, but online betting only accounted for 20.7% of that total.
That is far lower than the proportion seen elsewhere, and it could be because the state forces bettors to visit a brick and mortar sportsbook in order to sign up for a new account. This makes the illegal, offshore sportsbooks more attractive. They are not subject to tax, many of them offer sharp lines and they will allow Rhode Island punters to sign up from the comfort of their own homes. That represents a significant challenge for the Rhode Island Lottery and it would be sensible to scrap the in-person registration requirements in order to help redress the balance.
It really is results season, as Iowa has also unveiled its November sports betting stats. It revealed that handle increased 27.6% to $59.3 million compared to October, as retail bets declined but online wagering grew increasingly popular. However, revenue fell from $5.7 million in October to $3.6 million in November, suggesting that more bettor friendly results occurred during the month.
March Madness in Michigan
The rapid spread of sports betting continues apace across America, and lawmakers in Michigan now estimate that sports betting could be up and running in time for March Madness. Historical data shows that March is the strongest month for US sportsbooks due to college basketball, so it is easy to see why they have set that deadline. However, it would see Michigan miss the Super Bowl.
Sports betting was included in a wide-ranging package of gambling bills passed with bipartisan support in the state's legislature this week. It makes Michigan to 11th state to pass a sports betting bill this year. Gov. Gretchen Whitmer still needs to sign it into law, but she cannot veto it as it gained enough support to override such a measure. Whitmer has also suggested she would support it, so all that would remain is for the state to devise a framework and gear up for a March launch.