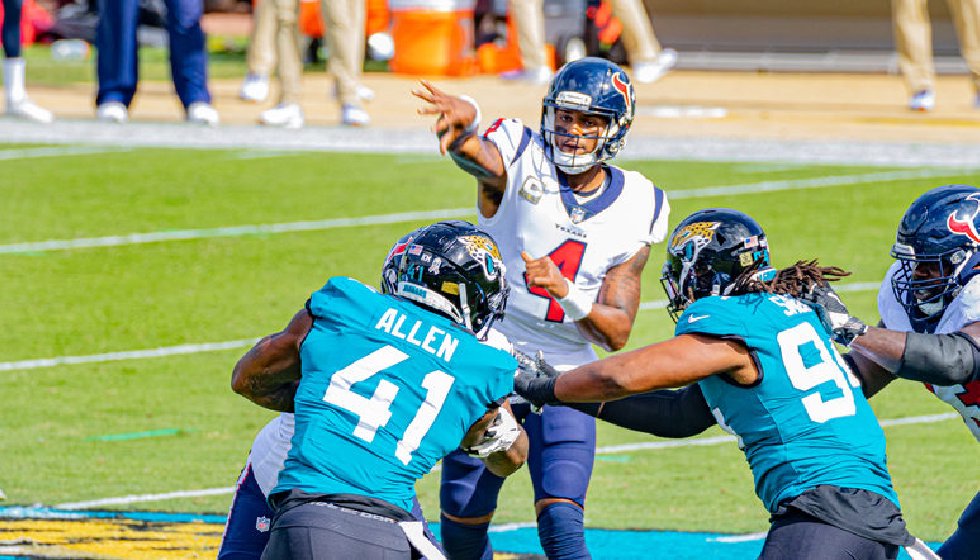 NFL Signs Sports Betting Partnership Deals with Three Operators
The NFL has inked a trio of historic partnership deals with leading sportsbook providers Caesars Entertainment, DraftKings and FanDuel. The three companies will be permitted to use NFL trademarks and official league data, while integrating "relevant sports betting content" directly onto NFL.com and the NFL app. They will also be able to show NFL highlights on their platforms and launch free-to-play NFL-themed games to drive fan engagement.
It marks the completion of a 360-degree shift in the NFL's stance on sports betting. The league battled to keep PASPA, a federal ban that prevented sports wagering in every state apart from Nevada, in place. In 2012, Commissioner Roger Goodell declared that "the threat that gambling could occur in the NFL or fixing of games or that any outcome could be influenced by the outside could be very damaging to the NFL and very difficult to ever recover from". He even prevented Las Vegas and its casinos from advertising during the Super Bowl.
However, its stance gradually softened, and it is now cashing in upon the advent of legal sports betting by tying up these deals with Caesars, DraftKings and FanDuel. "As the sports betting landscape has continued to evolve in the United States, we have been thoughtful with our strategy and are excited to announce three partners who share the NFL's vision and goals," said Renie Anderson, chief revenue officer and executive vice president of NFL Partnerships. "Working closely with Caesars, DraftKings and FanDuel, we will provide fans new and different ways of interacting and engaging with the sport they love."
New Ways for Football Fans to Share in the Action
Caesars was already the official casino partner for the NFL, and it is now one of three official sports betting partners. The firm is poised to complete its takeover of William Hill soon, which will cement its status as one of the country's leading sports betting providers. William Hill is the market leader in Nevada, it manages risk for lotteries in Rhode Island and Delaware, and it has a presence in many other states.
It was also confirmed as the market leader in Iowa this week, when the state announced that William Hill's handle reached $49.5 million during March. That put it ahead of DraftKings, FanDuel, BetMGM and BetRivers as the state's overall handle rose to a record $161.4 million. Caesars takeover of William Hill has hit a snag, but it is still expected to go through.
"As the first-ever gaming partner of the National Football League, everyone at Caesars Entertainment is thrilled to expand and strengthen our relationship," said Tom Reeg, chief executive of Caesars Entertainment. "Together, we will create new ways for football fans to share in the action of their favorite sport. Football season will be more exciting than ever now that fans can enjoy an enhanced experience at our casinos, in our sportsbooks, and online—all while earning Caesars Rewards credits and tier status that they can use to unlock incredible experiences."
Forward-Thinking Collaborations
DraftKings is already the NFL's fantasy sports partner, and it is pleased to extend the agreement. "The way fans consume sports years from now will look drastically different, and it will be due in part to forward-thinking collaborations like our expanded relationship with the NFL today as an Official Sports Betting and Exclusive Daily Fantasy Sports Partner," said Jason Robins, co-founder, chairman and chief executive at DraftKings. "We share the same vision as the NFL on fan engagement and believe this agreement will lead to new innovations that will ultimately enhance both the product on the field and on the screen."
FanDuel chief executive Matt King added: "On Super Bowl Sunday we got a glimpse at how powerful the combination of the NFL's excitement and our platform can be in delivering an enhanced fan experience. We are delighted to make that combination official by pairing America's market share leading sportsbook with America's favorite sports league. This partnership provides our shared customers with a new level of innovation and unmatched premium content directly within our platform ultimately enhancing every gameday."
Arizona Legalizes Sports Betting
The other major sports leagues have already signed official partnership deals with sportsbooks, but the NFL continued to resist. However, it has seemingly realized that it is pointless to oppose the upward march of legal sports wagering in the United States.
Arkansas, Colorado, Delaware, Illinois, Indiana, Iowa, Louisiana, Maryland, Michigan, Mississippi, Montana, Nevada, New Hampshire, New Jersey, New Mexico, New York, North Carolina, Oregon, Pennsylvania, Rhode Island, South Dakota, Tennessee, Virginia, Washington, West Virginia and Wyoming have all legalized sports betting, along with the District of Columbia and Puerto Rico. It is spreading rapidly across the country, with legalization efforts underway in several states.
Arizona can now be added to the list of states that permit sports wagering. Gov. Doug Ducey signed HB2772 yesterday, legalizing sports betting, daily fantasy sports and Keno. There will be 20 sports betting licenses up for grabs, with 10 going to the state's tribal casinos. "This represents the most significant changes in almost two decades — a truly historic event," said Ducey at a ceremonial document signing event in Phoenix.
After the ceremony, FanDuel announced a partnership with NBA team Phoenix Suns. It will see FanDuel launch a sportsbook at the Phoenix Suns Arena. "FanDuel is the perfect partner as our missions are fully aligned. Simply put, FanDuel is committed to making sports more exciting while the Suns are focused on delivering exciting sports and entertainment and engaging fans at the highest level possible."
Rival DraftKings wasted no time in securing market access by swiftly tying up a partnership deal with golf course TPC Scottsdale. It now plans to secure its online sportsbook license via this partnership. "This momentous effort to pursue a first-of-its-kind sportsbook with the PGA Tour is a testament to the vision of both organizations that we believe will ultimately benefit Arizona sports fans who want to legally bet on sports," said chief business officer Ezra Kucharz.