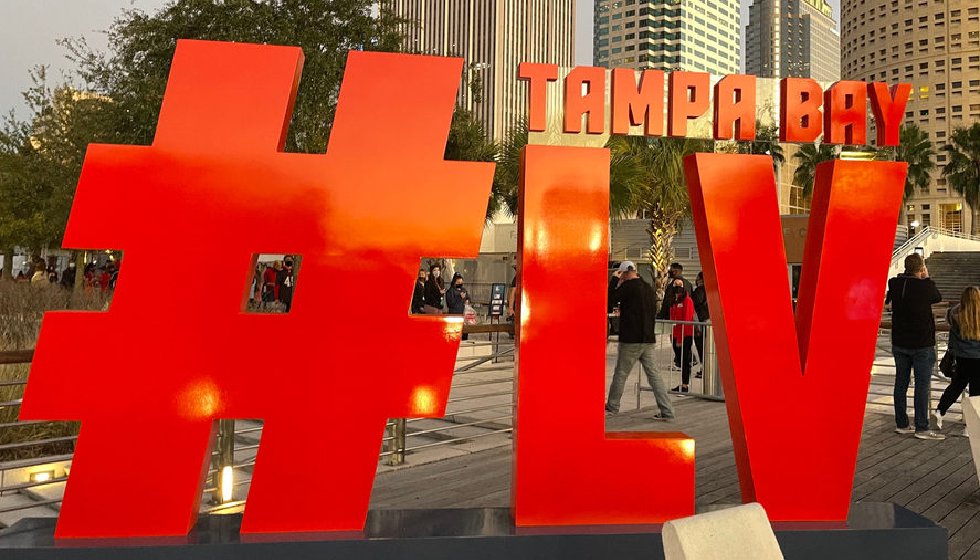 Super Bowl LV Tipped to Break Legal Wagering Handle Records
Football fans are expected to wager a total of $4.3 billion on the upcoming Super Bowl LV clash between the Kansas City Chiefs and Tampa Bay Buccaneers. The American Gaming Association (AGA) predicted that it would "generate the largest single-event legal handle in American sports betting history". In-person wagering is expected to decrease significantly as a result of the Covid-19 pandemic, but online betting should increase.
The game promises to be a thrilling encounter between two of the most exciting teams of the season. The Chiefs will bid to become the first team to win back-to-back Super Bowls since the New England Patriots team of 2003-04.  In order to do so, they must find a way to stop the man that led the Pats to those consecutive Super Bowl triumphs. Tom Brady took a real gamble by leaving Foxborough for Tampa last summer, but it has paid off. The 43-year-old veteran is now gearing up for his 10th Super Bowl appearance, and he will pit his wits against the hottest young quarterback in the business.
Patrick Mahomes was named Super Bowl MVP after leading his team to a sensational comeback victory against the 49ers last year. He is the favorite to win the award again this time around, but you can never write off Brady in a game of this magnitude. According to an AGA survey, 56% of bettors plan to back the Chiefs and 44% will bet on the Bucs. There are all manner of exciting prop bets on offer, so it should be a busy day for sportsbooks.
Pandemic Hits Office Pools
The AGA noted that 36 million more American adults have gained the opportunity to safely bet in legal markets in their home state since last year's Super Bowl. Seven new jurisdictions – Colorado, Illinois, Michigan, Montana, Tennessee, Virginia, and Washington, DC – have gone live since the Chiefs beat the Niners last February. Several more are poised to launch imminently as legal sports wagering spreads across the country.
"With a robust legal market, Americans are abandoning illegal bookies and taking their action into the regulated marketplace in record numbers," said AGA president and chief executive Bill Miller. He also said that the overall wagering handle is expected to decline compared to Super Bowl LIV, as fewer football fans bet with neighborhood bookies, in office pools or with friends. This could be a result of restrictions caused by the pandemic, but Miller hailed it as a victory for the industry's responsible gambling efforts.
Seton Hall University ran a separate poll and found that only 73% of respondents said they would not place a wager on the Super Bowl. The remaining 27% said they would bet on the game, or they are unsure. In 2019, 88% said they would not bet on the Super Bowl. "That is a 15 point drop in just two years, which is sizeable to say the least," said Seton Hall professor of marketing Daniel Ladik. "Even given the pollster caveat for under-reporting of 'sin' issues such as gambling, that is a notable change denoting either a rise in the gambling itself and/or the level of comfort with acknowledging the behavior.
"Through widespread marketing and partnerships with the leagues, legal wagering is working its way into the fabric of the sports universe at a rapid pace, particularly among younger people who have grown up in a digital world and are comfortable with online gaming options like DraftKings, FanDuel and any number of online casinos that offer a dizzying array of game and proposition betting opportunities."
DraftKings Launches Promotions
DraftKings chief executive Jason Robins said the firm is excited about the Super Bowl, and that it expects to see year-on-year growth. "The vast majority of wagers are still happening in the illegal market," he said. "If you look at the legal market, DraftKings was in five states last year for the Super Bowl. We're in 12 now, so a lot more Americans have access to DraftKings now than they did a year ago. We're very excited about this Super Bowl."
Competitive for market share among legal sportsbooks is ferocious, so DraftKings has launched two big promotions in the build-up to Super Bowl LV. "One is a $55 million free pool that has a top prize of $1 million, and if you enter you get a guaranteed prize of up to $25,000, so all you have to do is enter for free," said Robins. "We also have a super cool odds boosts, where if any team scores a touchdown, you double your money. No guarantees, but I imagine most Super Bowls, if not all, have seen at least one touchdown. It's for new and existing customers. It's a no-brainer."
Mattress Mack Backs the Bucs
The Chiefs have been a popular pick to cover the spread after overpowering the Niners last year and putting up a strong record this season. However, prominent bettor Jim "Mattress Mack" McIngvale has decided to back the Bucs. The Houston furniture store owner shot to fame by promising his customers a refund on purchases if the Astros won the World Series in 2009. His liability stood at $20 million, so he bet heavily on them in order to hedge. The Astros lost Game 7 that year, meaning the customers did not receive a refund and the sportsbooks profited.
He now thinks Tampa Bay has enough quality in its ranks to get the better of the Chiefs at the Super Bowl, and he has placed $3.46 million bet on the Bucs at +3.5. "Tampa Bay is loaded with talent on both sides of the ball and led by the greatest football player of all time in Tom Brady, so I'm betting big on the Bucs, who have overcome tough matchups throughout this postseason," he said. "The NFL has only seen eight instances of back-to-back champions and none in the past 16 years, so I like my chances going into Super Bowl LV for this trend to continue. DraftKings has been amazing; providing a safe, legal and fantastic customer experience."