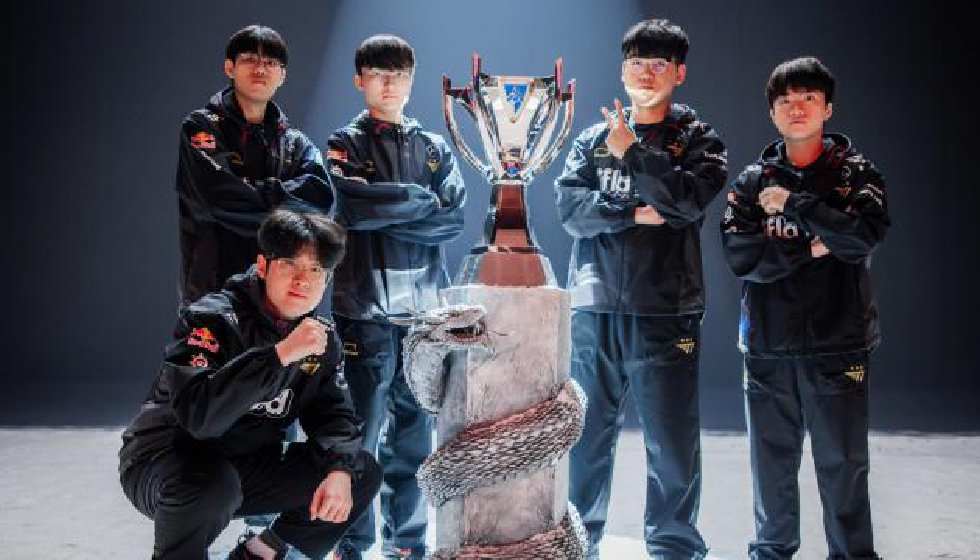 T1 sweeps Weibo Gaming to claim fourth LoL World Championship
South Korea's T1 secured a historic fourth League of Legends World Championship as it swept China's Weibo Gaming at the Gocheok Sky Dome stadium on Sunday.
The best-of-five final in Seoul saw T1 emerge victorious in three consecutive games, marking a resounding comeback after their loss in the final in San Francisco last year.
The event drew a full house, with a capacity crowd of 16,000 fans and tickets within minutes, according to Riot Games, the game's maker.
"More than anything, I am very grateful that I was able to play in front of so many people," said Faker, T1's main star, whose real name is Lee Sang-hyeok.
Hailed as the Michael Jordan of esports, Faker now holds the record as the oldest player to claim a LofL Worlds title at 27. He also has clinched the title four times. When asked about plans for retirement, Faker said he would continue to work with his team as contracted.
"My personal goal for this Worlds was to keep composure and mindset where even if I go 0-3 in the finals, I would be able to smile," he said.
T1's Ryu "Keria" Min-seok also described their victory as "feeling unreal" and "feels like a dream."
Throughout the Worlds 2023 tournament, T1 consistently came out on top in the best-of-five series against LPL teams. They conquered all four Chinese teams, including Bilbili Gaming in the Swiss Stage, LNG Esports in the Quarterfinal, JD Gaming in the Semifinal and Weibo Gaming in the Grand Final.
Weibo Gaming coach Yang "Daeny" Dae-in expressed disappointment over the lack of practice matches, known as scrimmages in esports.
"It was quite a bummer that we couldn't actually get a lot of opportunity to scrim against," Dae-in said.
LoL maintains global esports dominance
LoL Worlds, often considered the Super Bowl of e-sports, has evolved into a cornerstone of the billion-dollar global esports industry since its establishment in 2011. A global forecast is predicting an audience of nearly 1.4 billion by 2025.
League of Legends, a game involving two teams with five players each competing to destroy the opponent's base, remains the most-watched esports globally, with tens of millions tuning in to live streams from competitions annually.
The recent final was screened live at more than 40 cinemas across South Korea. Over one million fans reportedly tuned into a live stream of the finals on YouTube alone as well.
The event's opening ceremony featured a performance of the Worlds 2023 anthem by K-pop stars NewJeans and the first live performance from Heartsteel, a boyband from the League of Legends universe.
Fans from across Korea gathered in Gwanghwamun Square in downtown Seoul amid the cold weather to watch the match on a big screen and cheer for the home team. The excitement peaked as T1 team members lifted the trophy, with fireworks lighting up the sky and chants of "T1! T1! T1!" resonating through the crowd.
Beyond South Korea, hundreds of fans in Beijing attended a viewing party at the Communication University of China, while in Vietnam, a sports complex in Hanoi hosted 2,000 fans watching the final.
Looking ahead, Riot Games announced that Britain would host the 2024 world championship, with the final taking place at The O2 Arena in London, capable of hosting up to 20,000 people.