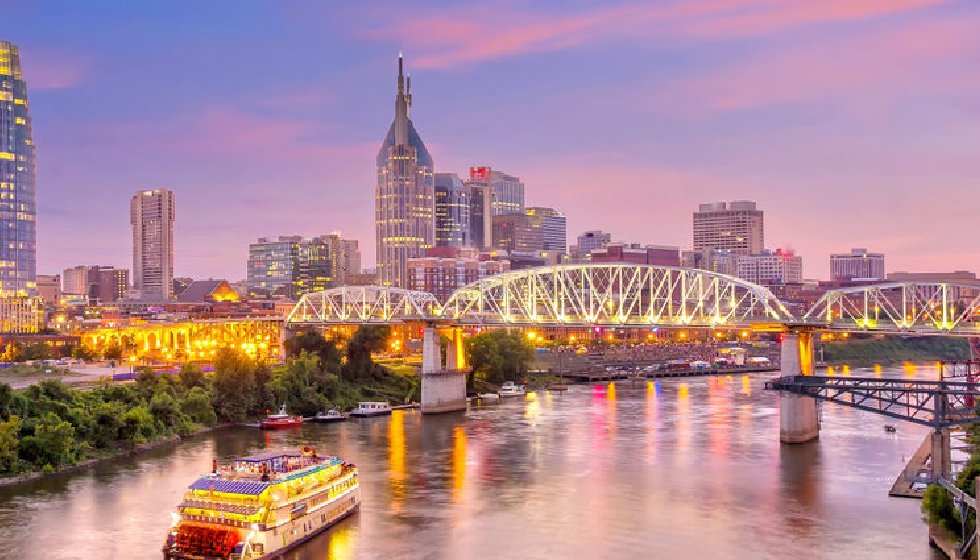 Tennessee Awards First Sports Betting Licenses to Heavyweight Operators
FanDuel, DraftKings and BetMGM could all go live in Tennessee at the start of November after securing the state's first three online sports betting licenses. Tennessee legalized sports wagering all the way back in May 2019, when the state legislature approved HB 0001. It has taken lawmakers almost 18 months to thrash out a legal framework to govern the sector, but Tennessee is finally ready to launch sports betting on November 1.
There are no casinos in the state, so it will only offer online sports betting, and FanDuel, DraftKings and BetMGM will be the first operators to capitalize. "The staff at the Tennessee Lottery performed a tremendous amount of work and due diligence to prepare us for these decisions today," said Susan Lanigan, chair of the Sports Wagering Committee of the Tennessee Education Lottery Board of Directors in a news release. "We appreciate their efforts as we work to establish and support a responsible and competitive sports wagering program in Tennessee."
FanDuel is part of London-listed group Flutter Entertainment, which became the world's largest online gambling company when it bought The Stars Group in a $6 billion deal last year. It now controls Fox Bet and PokerStars along with a raft of popular European brands, including Sky Bet, Paddy Power and Betfair. FanDuel is already the clear market leader in New Jersey and Pennsylvania, and it has launched in several states this year.
DraftKings began trading on the Nasdaq in April after a three-way merger with white-label sportsbook provider SBTech and a special purpose acquisition company. It now has a market valuation of around $18 billion after its share price trebled in the past five months. BetMGM is a joint venture between casino operator MGM Resorts and British bookmaking giant GVC Holdings, which owns Ladbrokes and Coral. They are all heavyweights vying to become the overall market leader in the United States.
A Potential Roadblock
Tennessee charges just $750,000 per year for sports betting licenses. That is a lot less than the $10 million that operators must stump up in Pennsylvania. Tennessee is a smaller state than Pennsylvania, Illinois and New Jersey, but it ranks 16th in the country for population and 18th for GDP, so it should prove to be a pretty important market for sports betting companies. It has three major sports teams – the Tennessee Titans, the Memphis Grizzlies and the Nashville Predators – along with several popular college teams and smaller pro franchises.
The only problem for operators in Tennessee is that they will be forced to hold at least 10% of the money they take on sports bets. If they fail to do so, they will be fined. Tennessee has imposed this condition to ensure it receives a sizeable revenue tax each month on operator winnings, but it could be shooting itself in the foot. Most US sportsbooks hold around 7% on average, so the likes of FanDuel, DraftKings and BetMGM will have to find a way to make a better margin.
That will probably force them to charge more vig than the standard -110 on either side of the spread or totals, and they may also have to offer unattractive money lines and futures in order to hit that 10% quota. That does not sound very attractive to sports bettors in the state, who can go online and find -110 or -105 lines at offshore betting sites that do not pay tax or fall under the jurisdiction of state regulators. It will be difficult for them to seize market share from offshore books if they cannot offer competitive odds.
A Cautionary Tale
You only need to look at the situation in Washington, D.C., to see how difficult it is for a sportsbook to attract customers if its odds do not stack up against its rivals. The District awarded beleaguered Greek lottery provider a controversial, no-bid contract to exclusively run online sports betting in the nation's capital. Councilman Jack Evans, who brokered the deal, had connections with a lawyer and lobbyist with connections to Intralot, and Evans later resigned from the Council amid an ethics violations scandal.
Yet one of the main reasons for the Council's decision to award Intralot the contract was that the firm to hold up to 30% of the District's sports betting handle. Intralot said this strategy would yield high tax revenues for the District, and the Council awarded it the lucrative deal. However, Intralot's GamBet DC platform has proved deeply unpopular due to the atrocious odds it offers.
It finally received some competition in the District when William Hill launched a retail sportsbook at Capital One Arena on July 31. The figures for August are now in, and William Hill wiped the floor with GamBet DC. It took $9.1 million in sports wagers during August, whereas GamBet DC only took $2.1 million. That is despite William Hill only operating out of one physical location in the city, whereas GamBet can be used on mobile devices across the entire District.
Online wagering accounted for around 88% of the total sports betting handle in New Jersey, Pennsylvania and Indiana in August. It is more convenient, especially during the age of Covid, so it really should be the dominant channel. However, in Washington, D.C., sports fans turned their backs on GamBet due to the unattractive odds. Some 86% of the handle went to the sole William Hill retail sportsbook at Capital One Arena, but a lot of money was probably wagered offshore and at neighborhood bookies. Tennessee may not face quite such an extreme situation, but it highlights the perils of forcing or incentivizing operators to provide unattractive odds. Bettors simply shun those books, meaning they do not bring in much money and the state does not earn much revenue for tax. It certainly provides food for thought in Tennessee, where legislators may be forced to drop the demands for a 10% hold if the nascent market struggles to take off.