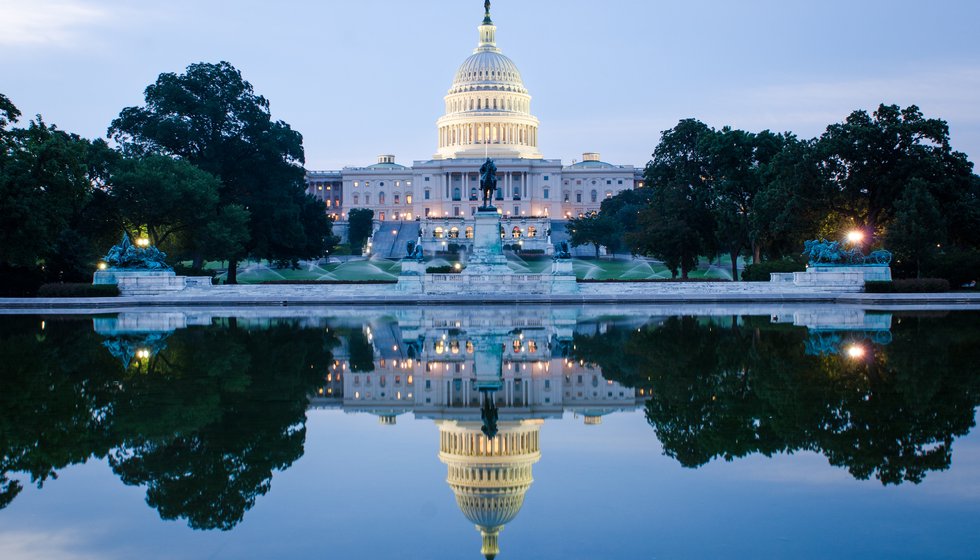 Washington DC Delays Sports Betting Launch Due To Coronavirus Locksdown
The launch of sports betting in Washington DC has been delayed until the sporting calendar picks up following the coronavirus lockdown. The US capital was due to unveil its online wagering platform this week after legalizing sports betting in January 2019. However, those plans have been put on ice due to the lack of sporting action taking place as authorities battle to contain the spread of COVID-19.
Retail sportsbooks across the US have been forced to shut their doors during a lengthy lockdown. The casinos of Las Vegas are shuttered, while online sportsbooks are scraping by with a few markets on virtual sports, marble racing, Nicaraguan soccer and the odd horse race. The Washington DC Lottery decided on balance that now is a pretty bad time to launch a brave new era of sports betting in the city.
"We are revising our sports wagering launch strategy based on the current state of world events, but will be posting information about the platform in the coming days, including introducing the brand and its functionalities," said Nicole Jordan, director of marketing and communications at the DC Lottery. "The Lottery and Intralot are prepared to launch the platform when it is safe for the sports world to return."
GambetDC Branding Revealed
When it does launch, the Lottery will have a monopoly on online sports wagering across the District. The platform will be called GambetDC. The city made the controversial decision to appoint Intralot to power the sportsbook. Councilman Jack Evans, who has since been expelled from the council over ethical violations, passionately led calls to award Intralot the contract, although he had a business agreement in place with one of its backers.
The Greek firm promised to pay the city the highest margins, but critics argued that would mean unattractive odds. Intralot also powers the new sports betting industry in Montana, and the lines were dreadful before the sporting calendar shut down. Some spreads were offered at -135, whereas the industry average is generally -110, and reduced juice books offer -105 lines.
Critics claim that this will simply push sports fans in Montana and Washington DC into the arms of illegal offshore books or neighborhood bookies. In Washington DC, sports venues, bars and restaurants can also launch sportsbooks. However, sports betting must be confined to their premises. They can launch a retail sportsbook and offer a sports betting app, but it must be geo-fenced so that it stops working as soon as you step off the property.
William Hill is the only operator to apply for one of those licenses thus far, having teamed up with the Capital One Arena. It should have its license within around five weeks, but there is unlikely to be much sporting action on offer by early May.
More Cancellations Hit the Sector
The Wimbledon tennis tournament was the latest high-profile sporting event to be cancelled this week, following the Olympics, March Madness and Euro 2020. Wimbledon was set to take place at the All England Club in June, suggesting that the global sporting calendar could remain quiet for many more months. All tennis has been suspended until at least July 13.
Premier League officials have given up hope of resuming play on April 30, as was the initial plan. Nobody knows when the NBA season will resume. The MLB season is yet to begin, and officials are unable to provide a start date. The NFL season could even be pushed back at this rate. The draft will take place as planned on April 23-25, but with no players, fans or media present.
It has derailed the impressive momentum the nascent sports betting sector was building up across the US. The Supreme Court struck down PASPA – the federal ban that outlawed sports betting in every state apart from Nevada – in May 2018, and 21 states have since legalized sports wagering. Big states like New Jersey and Pennsylvania made a flying start to 2020, and they were expecting record trading in March, but operators are now left without any sport to offer lines on.
However, the American Gaming Association believes the industry will be back with a vengeance once the sporting calendar resumes. "Given the budget shortfalls we're going to see from the existing gaming industry essentially shutting down here in the United States, I think that there might be even more appetite to look for opportunities to bring sports betting to Americans," said senior vice president Casey Clark. "There is a revenue loss that states are going to have to try to balance when we get past this."
Oregon Sports Betting Suspended After Cyberattack
The Oregon Lottery sports betting app, Scoreboard, was subject to a cyberattack this week. There is hardly any sport to bet on, so the hackers were trying to snatch funds left in players' accounts. SBTech, which powers the app on behalf of the Oregon Lottery, decided to stop accepting bets while it fended off the attack. "SBTech brought its systems offline as a precautionary measure in response to a cyberattack – suspending play on Scoreboard and other online sportsbooks using the platform," said the firm in an email to users. "We have no reports of unauthorized disclosure or extraction of player data or account balances."
Lottery officials are under pressure in Oregon after revealing earlier this year that the Scoreboard app is losing money. Revenues have been lower than projected, and the app has struggled to seize market share from offshore competitors. "Lottery will have a loss of $5.3 million from the program for the first nine months of FY 2020," said the Oregon Lottery. "Original projections have been revised downward to reflect evolving estimates around black market capture rate, lack of NCAA wagering, tax withholding, intrastate competition, margin and product technical issues."
The Lottery has also been dealt a blow by the closure of bars and restaurants during the coronavirus lockdown. This means its poker machines are gathering dust. It faces a significant challenge in trying to become profitable once the sporting calendar picks up again, and it might need to offer more attractive prices and more compelling bonuses if it is to improve its black market capture rate.